WiFi Baby 3 and WiFi Baby 4 ships ready to play with a preconfigured MyWiFiBaby URL to connect anywhere.  
On any version shipped LATER than July, 2015 your MyWiFiBaby URL is highlighted on the main monitor settings screen.  
To see the steps below in action, please start at the 4:40 mark of our Quickstart video below.  
Away Setup:  Begin at 4:40
With the MyWiFiBaby URL you are making a direct connection from Device to Camera while "away" on any data plan or external WiFi connection. You are not uploading and accessing your video and audio from a cloud server.  The following screen shot guide will you how to enter your secure URL (wbexample.mywifibaby.com) into the mobile apps or using a browser on Mac or PC.
Prior to this, you need to complete the home network wireless setup  for your WiFi Baby 3 using the QuickStart guide included in the box. 
When that is done your WiFi Baby 3 and WiFi Baby 4 will have an IP address to connect to locally when you are on the same WiFi network via the apps or just using a browser.
1.  Confirm you have WiFi Baby 3 or WiFi Baby 4.  The model number on the camera or packaging will be WFB2014 or WFB2015.  If not please visit HERE.

On your browser go to the WiFi Baby login screen and click SETTINGS. You will then be taken to this homepage.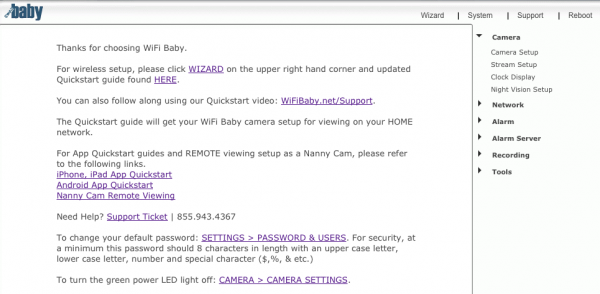 2.  On the right sidebar use this path: NETWORK > REMOTE VIEWING.  You will then see the following screen.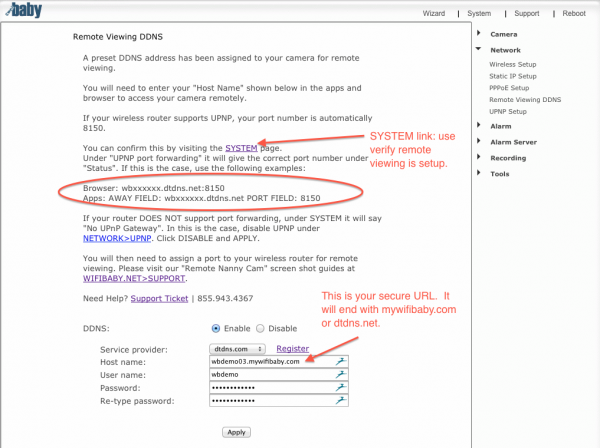 3.  Depending on when your WiFi Baby 3 or WiFi Baby 4 shipped, the URL will end with dtdns.net or mywifibaby.com.  Both URLs work the same.  Your unique URL is listed at the bottom and will start with wb.  Please read the steps for setup on the REMOTE VIEWING screen (see screenshot above).
4.  Click SYSTEM to verify your URL is active.  Scroll down to the REMOTE VIEWING section and you will see this screen.  If it's active it will say SUCCESS. If not, click HERE. 

5. After verifying, enter your unique URL in your iOS and Android apps or browser using the following examples and screen shots as reference.  Also make sure that you are entering your username and password for your camera correctly.
iOS or Android apps:
AWAY IP FIELD: wbxxxxxx.mywifibaby.com 

AWAY PORT FIELD: 8150
Desktop Browser:
wbxxxxxx.mywifibaby.com:8150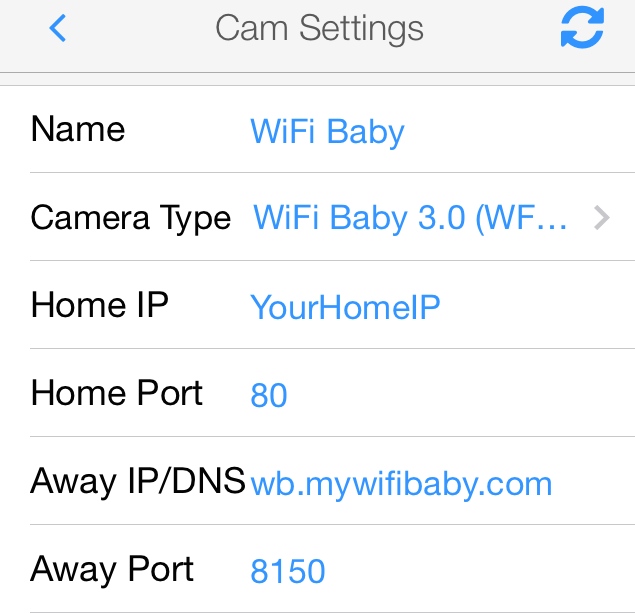 6.  To test on iOS or Android, switch off the WiFi on your device.  Now that you are connected to a data plan (LTE, 4G, etc) open the app.
You are now connected and can securely access your WiFi Baby 3 anywhere.
For Mac or PC, test using any computer NOT ON YOUR WIFI NETWORK and enter the URL and port 8150. (example: wbxxxxxx.mywifibaby.com:8150).  The following sign in screen will appear.  Then just bookmark and enter your username | password to access.

Troubleshooting: 
Is your username and password is entered correctly in your apps or browser?
Is your URL is entered correctly?   It begins with "wb" then 6 characters and ends with either mywifibaby.com or dtdns.net.
Did you enter 8150 as the port in the apps or end the URL in your browser with :8150?
Did you cut & paste the URL vs. typing it in? You may have grabbed a space in the beginning or end of the URL.
Are you sure you are connecting externally when testing, not on your home WiFi network?
Is your URL active under the SYSTEM page?  Does the message No UPnP gateway appear under the REMOTE VIEWING section as shown below?

If  No UPnP gateway appears, please visit HERE or request a MyWiFi Pro SUPPORT TICKET.  Our US based support team can assist on the phone or by screen sharing.